Description
The Hay Play Feeder Ball is the new innovative way to feed your horse its daily forage intake! The Hay Play simulates a natural grazing position and is suitable for use indoor or outdoor for horses, ponies, donkeys, goats and sheep!  This unique shape allows the Hay Play to be freely pushed around, but it won't run away down a slope. The Hay Play can also be used as boredom buster without having to feed your horse or pony any additional hard feed.  Just stuff hay into the screw opening of this 16" round sphere and its ready for your horse to Play.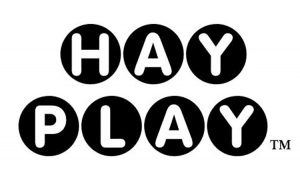 HEALTHY & ENTERTAINING
Holds up to 6.5 lbs of hay or haylage
Slow feeding promotes natural eating patterns
Tested & supported by dentists and veterinarians
Suitable for use in the paddock or stable
Recessed holes prevent dirt contamination
Encourages a natural grazing position
Ideal for horses on restrictive diets
Boredom Busting!
Available in 4 fun colors